If you are a DJ, you have a music group, a band or you want to start in the world of production to create your own music, these are undoubtedly the questions that will go through your head. What program do I use to make music? What are the best applications for music production? How can I learn to use production programs?
Let's be honest, making music was never easy nor cheap!
Luckily we live in a moment where access to the tools . That we need to make our songs is simpler, cheaper and more accessible than at any other time in history.
Any musician just a few decades ago would have dreamed of having half of the possibilities offered by music programs . That we have access to today, even double (triple, quad) of its current price.
They are good times, if we had been born just a few years ago we would not have these possibilities ... So, let's take advantage of it. You want to make music Keep reading…
What is a DAW or music production program?
A DAW is Digital Audio Workstation. It is a program designed for the edition, recording, mixing and mastering of digital audio files.
A DAW or digital audio editing program is basically a piece of blank paper . The necessary brushes for an artist to create their works of art.
Once you have chosen the program to make correct music. All you need to create your own songs is your talent. And Some sounds but above all creativity.
With this tool you can -



record your different instruments,




sort the tracks,




add virtual instruments,




rearrange,




cut, paste, edit, add effects,




mix and master your songs



so that the world can hear it.
Professionals, amateurs and home studios use DAWs as their backbone to make music. Some still use analog configurations, such as samplers of the Akai MPC type. But most people today use computer-based software to make music.
Apart from a computer, a DAW is the most important piece of the musical production gear. Nowadays with only these two elements it is possible to create incredible results.
How to choose the best program to make music or DAW?
For us, choosing your DAW is like choosing which soda you should mix with your favorite beverage. Anyone can work for you. However, it is convenient to take into account your personal needs in order to choose the best possible option. Here are some important aspects to keep in mind during the search.
Your budget
This is an investment usually 4-5 years or beyond (like buying a car), so you're going to want to do things right. It costs us all to save a few hundred dollars that can cost these tools.
So the price factor is something to take into account when choosing a production tool or another. It is important to think long term. And luckily most of these companies offer free tests of their programs that will be more than enough to test the program. And see that it covers our needs.
What platform do you use
Although most programs have versions on the most popular platforms. Other DAWs only work on certain platforms, such as Logic X Pro , which is only available under MAC computers. If you have the platform on which the program will not have any problem. If not, you will have to consider the investment that will also require buying that equipment.
What level do you have and what quality of music do you need to create?
If you're starting out you probably do not need to get many more professional DAW options like Pro Tools (for which you need several years of practice or specialized school courses to begin to master all your power) .You probably want to start with a program that you can easily understand and that covers your music making needs.
Getting expert software from the beginning can not only take months of learning. It can also be tremendously discouraging.
In short, a bad choice can lead to frustration and abandon your intention to create music. On the other hand, if you are a little more experienced you will surely want to look to jump up and get expert level software.
These more advanced programs can be hard to control at the beginning. But they are a good investment for the future. Which brings us to our next point.
Think about the future:
If you are a beginner, you should take into account what was previously mentioned. And we recommend you to learn and use the most professional tools progressively. But the future must be taken into account as well.
However it is clear that most likely after some time (year surely) your needs start to be higher so you will surely need more options. If the DAW you chose at first has a low ceiling, you will eventually have to make a change and learn new software. We would like to find an intermediate solution. Software that will take some time to learn. But with which one can immediately feel confident with the basic functions of music production.
And also that ultimately offers some more advanced features for when you are ready to take this path.
Most DAW, even the "beginner" programs, have a very professional level. It could cover almost any technical need when making their music.
As an example of what we have just told you, there could be the Fruity Loops program (now FL studio). Although it is considered a beginner's software. It is still used by well-known musicians and professional artists of all kinds who began their learning with.
Do you perform live?
Some of the software are more optimal to act live than others. And have special features for this while others are purely designed for work in the music studio.
Relax
We are in 2018, the digital age, and most of the production software today is very advanced. All the programs that we list have a great development behind. And have grown with the experience and contributions of hundreds of professional musicians who they use it as a tool. They have huge communities with forums where they can find support, YouTube tutorials, etc.
Anyone who ends up being their software choice will not really be wrong, and it will not hurt. Even if it is a beginner. So do not be scared.
The best programs to make music -
All the main current music production programs are of high quality . You will find international producers who have made some of your favorite songs using any of them.
However if you are starting in the production of your own music and you want us to put you easier things. Here is a list of what for us are the best programs for you to start making your songs:
1. GARAGEBAND APPLE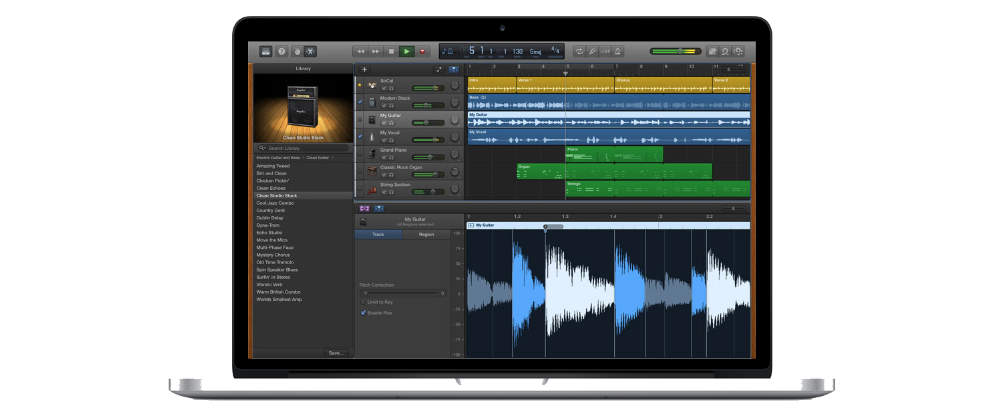 REVIEW:
You will have to search a lot to find a better DAW if you are an initiate in the production world. Or just someone who wants to record a model for your group in an amateur way.
Garageband comes free with the new Mac and if you can not download it at a very low price.
The good thing about Garageband is that anyone can create music. Even those who are not musicians can easily "play" with their bookstores and instruments and create music tracks. It also has all the basic tools for recording and creating songs.
GarageBand has now evolved into a kind of mini-Logic Pro. So if your functionalities start to fall short for your needs. You can make a leap of quality to this more professional software in a relatively simple way.
It has a battery functionality. That is ideal for the automatic generation of rhythms, intelligent controls that greatly facilitate the editing of sounds. And also has a "Logic Remote" application for remote control of the parameters through the iPad.
ADVANTAGE:



Its price. Free with the new Mac. IPad version.




Ease of use, it is the perfect program to start in the world of production or for bands and amateur groups.



CONS:



For more professional users, it has certain shortcomings.




Only available for Apple platforms. With versions on Mac, iPad and iPhone.




They have sacrificed functionalities to gain in simplicity and ease of use.



2. FL STUDIO (old Fruity Loops)
Review:
FL Studio began its life as Fruity Loops, the step-by-step editor of beat / rhythms / loops with great popularity. that has been used by numerous artists and producers from around the world (Deadmau5 included). However, today it has earned with its own merits the status of being one of the most complete DAW in the market.
The latest version of FL Studio, launched this year, represents one of the most significant revisions to the program in years. It offers a vector user interface that looks great on high resolution monitors, a redesigned mixer and updates for several of its software plugins.
FL Studio is today a good option to start in the professional world of music creation.
Its strong point is perhaps the ease of starting to work with the tools. And libraries provided by the factory and a good mixing console. Rather than a more traditional approach to what is a recording studio.
Another great advantage it presents compared to other DAWS is that it now offers free lifetime updates to all who buy their license. This guarantees that in the long run it will be a very profitable tool. Especially if we compare it with other popular options for its own platform (PC) such as Cubase.
ADVANTAGE:



Learning curve. Although, like all professional DAW. It is still a program that requires a lot of experience to take advantage of all its performance. FL Studio's learning curve is somewhat more accessible if we compare it with other software in its same category.




It has one of the best and most active online communities. So it is very easy to find support, forums and online resources.




Free updates for life.



CONS:



At an advanced professional level FL studio is still somewhat behind other music production programs.




Its MAC version is not yet completely stable.



Celebrities who use FL Studio:
Avicci, Deadmau,
3. PRO TOOLS
Review:
Pro Tools has long been the industry standard for professional recording studio software.
The latest version of Pro Tools again sets the bar very high with its 64-bit audio engine and its low-latency handling, playback and recording.
Pro Tools is also upgradeable to Pro Tools HD, which has incredible recording capabilities. But is expensive compared to other digital audio work software.
ADVANTAGE:



The authentic "standard" in all the great studios of the world.




Audio recording.




Your sound engine.




It continues being one of the preferred tools. By the best producers and technicians of the world at the time of carrying out tasks of mixing and mastering.



CONS:



Its functionalities to handle MIDI and virtual instruments. Although they have improved a lot with their latest versions are still somewhat behind their direct competitors.




High learning curve.




It has evolved more slowly than the competition.




Price.



4. CUBASE
Review:
Cubase has been an industry standard for years. Often this software is referred to as "the grandfather of the DAWs", since it has been in development since 1989 (Atari ST).
Cubase was created by Steinberg. The company that introduced the "Virtual Instrument Plugin" technology that we all know today as VSTs.
Many well-known composers such as Zedd, Justice, Kraftwerk use Cubase. And there is no doubt that it is an excellent piece of software. Although as we have told you Cubase was originally published in Atari. Steinberg has been able to evolve and perfect his DAW over the years to the present day. Where it is undoubtedly one of the main tools of musical creation for musicians and producers.
In general, Cubase Pro feels like what it is: a mature and professional DAW that continues to evolve in interesting directions to create a great creative tool.
ADVANTAGE:



It is one of the current standards.




There are versions for both PC and Mac.




At the time of editing the audio is one of the best options in the market.




Very frequent updates (although some of payment).



CONS:



High learning curve.




Its price.




You have to pay a considerable amount for the biggest updates.



Celebrities who use Cubase:
Zedd, Justice, Kraftwerk, New Order, Paradise Lost, Zombie Nation, Tiesto, Tom Staar, Antoine Clamarant,
5. ABLETON LIVE
Review:
Ableton Live entered the market when other solutions already enjoyed a lot of popularity and in its early years did not get too much attention.
However, its continuous updates, high quality and especially its innovative and creative approaches to music production have made a difference. And have made it one of the most famous software for music creation today.
Although Ableton continues to be a great tool for studio work such as recording, composition, mixing and mastering. The one where Ableton Live really marks the differences with other DAWs is in its "Clip View" mode. Where this software does not have rival as an instrument for live performances, shows and DJ sessions. This view also supposes a very important and powerful innovation in the creative work flow. When creating a song and also doing live performances, which makes Live. Besides being one of the best tools of musical production right now .
ADVANTAGE:



More creative workflow.




Besides its power for the study is a very useful and flexible tool for direct. It is increasingly used by DJs, electronic artists and bands within their shows.




The quality of its native plugins.



CONS:



For certain more complex styles, your workflow may not be optimal.




It is not the best DAW to perform the mix of the final track.



Celebrities who use Ableton Live:
David Guetta, Madeon, Diplo, Skrillex ...
+ Download Ableton Live and official website .
6. LOGIC PRO X
Review:
Logic Pro X is Apple's solution for music producers. It is surely all that you think about when in your head comes the idea of a studio for the professional musician. It's a highly elegant music production solution that simply works.
In the last year, we have had a real frenzy of activity in the development of this tool. And which has made this program once again lead the lists of best programs to make music.
The latest updates to Logic Pro X have brought a variety of improvements in their workflow.



Improved their percussion application.




Renewed all work views for high resolution screens.




Prepared their plugins for retina resolutions.




Renewed and expanded the sound library considerably.




Included a new Retro synthesizer . Impressive and complete Alchemy synthesizer by Camel Audio. (payment software that is now free for Logic Pro X users)



These are some among many other new features and improvements.
In short, if Logic Pro X was already a DAW that offered great value. And now it is truly irresistible. If you have a Mac, Logic Pro X is definitely an option that you will not regret.
ADVANTAGE:



In the last year it is perhaps the music software that has evolved the most.




Its price. Especially if we take into account its quality and the amount of additional material with which it comes. Such as libraries, synths, virtual instruments and plugins.




The quality of your mixing console




The quality of its native plugins.



CONS:



Only available for Apple platforms, iOX.



Famous people who use Logic Pro X:
Axwell, David Guetta,
7. Cakewalk Sonar -
You can use this as well.
FINAL NOTE:
We will expand and complement this guide as new professional programs to create music evolve or are created. Meanwhile, we leave the comments section open to any suggestion, contribution or endorsement by you.